Home

/

Muzzle Baskerville Ultra Size 5 Black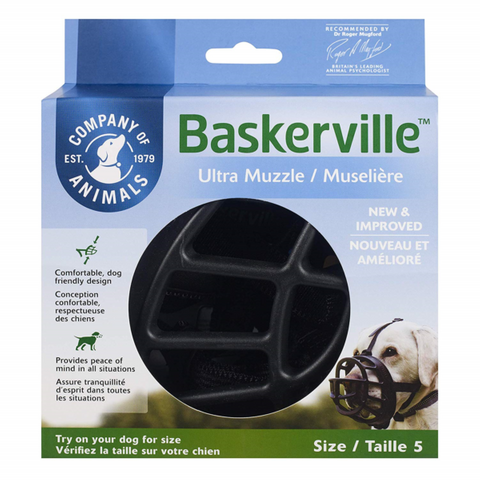 Muzzle Baskerville Ultra Size 5 Black
Description
Baskerville Ultra is the ultimate muzzle. Every aspect of the muzzle's design has been created to combine maximum safety with comfort for the dog. It has taken four years to develop, however we truly believe that it was worth the wait. The material is extremely tough and durable, yet malleable and soft to touch. The ergonomically designed safety strapping ensures the muzzle will always remain securely in place and features two additional points of secure attachment. The loop at the bottom is designed to attach to your dog's regular collar and an optional over-head safety strap should ensure that even a canine Houdini cannot escape! The Ultra also has a secure metal buckle with pre-holed webbing, to ensure it is quick and easy to fit and the neoprene padding ensures it is snug and comfortable.

As welfare is always paramount with our product design, the dog can pant, drink and even be fed through this revolutionary muzzle, which comes in six sizes to fit most dogs.

Key Benefits:

Tough durable material, soft to touch
Designed to prevent the dog getting it off
Drinking, eating and panting are all possible with the Baskerville muzzle

*See guidelines for size chart

Sizes are available in 1 - 6 and are for typical adult dogs & bitches. Juveniles may need a size smaller. It is important to have the correct fitting for every dog – see packaging instructions.

BASKERVILLE Height must allow mouth to open in panting; length must have 1cm clear from end of nose.

Ultra Muzzle Size Length Nose Circumference
1 8cm / 3" 23cm / 9"
2 10cm / 4" 30cm / 11.8"
3 11cm / 4.5" 34cm / 13.3"
4 12.5cm / 5" 36.5cm / 14.3"
5 14cm / 5.5" 42cm / 16.5cm
6 14.5cm / 5.7" 45cm / 17.7"