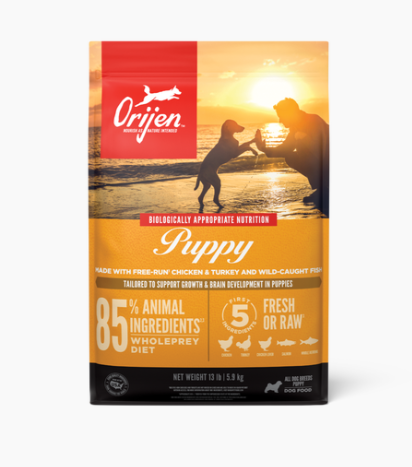 Orijen Puppy 6kg
Description
Orijen Puppy Food - Biologically Appropriate Dog Food

Designed to match your puppy's natural diet, ORIJEN Puppy replicates the healthy and diverse balance of meats, fruits, vegetables and grasses that perfectly support the growth of puppies and young dogs.



Loaded with the nourishing meat ingredients (80%) that Mother Nature evolved all puppies to eat, ORIJEN provides free-run chicken and turkey, whole eggs and wild-caught fish that are farmed or fished and delivered fresh to the Orijen factory, this allows the food to be preservative free, never frozen, and brimming with the proteins and fats that nourish your puppy completely.



Key Benefits:

Rich in Meat & Protein: Puppy is made with a full 80% of meat from free-run chicken and turkey, fresh whole eggs and wild-caught fish. These high meat inclusions produce a Biologically Appropriate protein level of 40%, which replicates the natural diet and nourishes your puppy according to his anatomical adaptation to meat protein.
Rich in Animal Fat: Animal fats and oils are essential for the peak health of all puppies — that's why ORIJEN is free of plant oils and only features fats of premium animal source. Over 90% of the fats in ORIJEN occur naturally from high inclusions of fresh chicken, turkey, fish and egg.
Dha & Epa from Fresh Fish: Fresh fish is a perfect source of highly digestible and Biologically Appropriate DHA and EPA Omega-3 fatty acids. Essential for your puppy's developing immune and nervous systems, as well as his glowing skin and hair coat, these richly nourishing fatty acids are not available from plant oils such as flax, coconut or sunflower.
Grain Free and Carbohydrate Ltd: Your puppy's natural diet contains very few, if any grains or carbohydrates. That's why Biologically Appropriate ORIJEN is grain-free and contains less than half the carbohydrates found in conventional puppy foods.
Limited Calcium & Phosphorus: ORIJEN Puppy has limited calcium and phosphorus, with a guaranteed maximum of 1.7% and 1.4% respectively.
Glucosamine & Chondroitin: ORIJEN's high ratios of fresh poultry, meats and fish provide a rich source of glucosamine and chondroitin — which is derived naturally from the fresh meat ingredients, without adding synthetic ingredients to the formula.
Veterinarian Selected Botanicals: Providing the element of your puppy's natural diet that he craves when foraging for grasses and weeds, ORIJEN's veterinarian-selected botanicals help support your puppy's metabolism, strengthen his organs, and serve as cleansers to rid his body of toxins.

Made Specifically For: Puppies up to 12 months of age.