Home

/

Ziwi Peak Cat Cuisine - Lamb 400g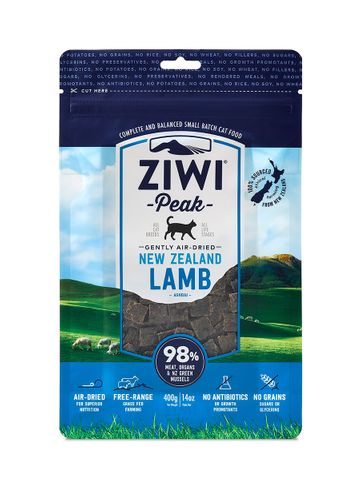 Ziwi Peak Cat Cuisine - Lamb 400g
Description
Born of love. Crafted for goodness. Made in New Zealand. We are a small team whose love for our dogs & cats is pure and simple, just like our recipes. We put the best of New Zealand into our authentic farm-to-bowl products so you and your pet can share a lifetime of adventures together.

At Ziwi, we're inspired by what our pets know: Simple is good, and taste is everything. So we challenged ourselves to make our recipes even simpler; yet still Complete and Balance, and even tastier; by using more natural ingredient options.

Our new ingredient list is shorter than most, but we don't think you will miss a thing. Take a look and compare it to other brands. You'll notice a real difference and we're sure your pet will too.

Air-Dried Recipe Improvements
1. 98% Meat/Fish, Organs, Bone and New Zealand Green Mussel (Previously only 95.8%)
2. Ingredient list is dramatically reduced from 15 vitamins and minerals to just 9 for dog and 9 for cat, further supporting a limited ingredient diet.
3. Natural New Zealand sea salt added to meet AAFCO nutritional minimums.
4. A complete & balanced diet.
5. Same great palatability & taste.
6. Formula modifications are minor; therefore, there is no need to slowly transition from old to new and improved recipes.