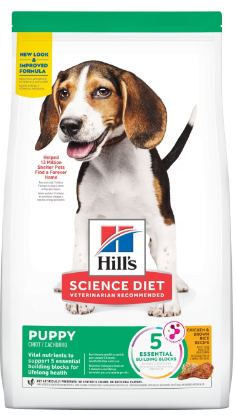 SD Dog Puppy 3kg
Description
Hill's Science Diet Puppy pet food gives your puppy the right balance of essential nutrients to start your puppy off right. An ideal combination of tasty ingredients helps a puppy's body grow strong and healthy. It is enhanced with natural DHA, an Omega-3 fatty acid vital in the development of the brain and nervous system in puppies. Science Diet Puppy gives your dog the foundation for a lifetime of good health. Also great for pregnant and nursing dogs.

Key Benefits:

Superior Antioxidant Formula: Promotes a healthy immune system to give puppies a great start in life.
Antioxidants are known to help slow cell oxidation.
Enhanced with Natural DHA: Important for brain and vision development.
Naturally Preserved: Mixed tocopherols (a form of vitamin E) preserve freshness and great taste.
Nourishing Fatty Acids: Helps maintain proper function of nervous and immune systems, as well as promote healthy skin and shiny coat.
High-Quality Protein: Helps build strong bones and muscles, and ensure optimal growth and development.
Digestible Carbohydrates: Supply abundant energy for active puppies, while promoting gentle digestion.
Vitamins and Minerals: Provide an ideal balance of vitamins and minerals for growing puppies.