Home

/

Acana Cat Grasslands 1.8kg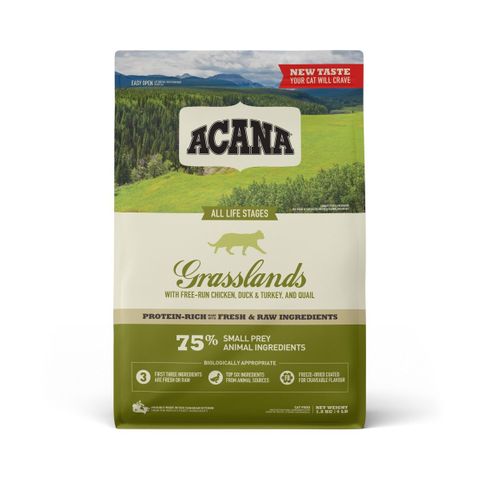 Acana Cat Grasslands 1.8kg
Description
GRASSLANDS CAT & KITTEN
FOR CATS & KITTENS OF ALL BREEDS AND LIFE STAGES

Inspired by our grasslands and northern lakes, ACANA Grasslands is made with fresh lamb, free-run duck, whole nest-laid eggs, wild and whole northern pike, and free-run turkey from western Canada.

Brimming with fresh regional ingredients that are delivered FRESH or RAW daily in WholePrey™ ratios that mirror your cat's evolutionary diet, ACANA nourishes your cat

naturally, without long lists of additives.

Carbohydrate-limited and loaded with nutrient-rich meat protein and low-glycemic vegetables and fruits, ACANA promotes peak physical conditioning in cats of all breeds and

life stages. Prepared exclusively in our award-winning NorthStar® kitchens from fresh, trusted and sustainable regional ingredients, we think you'll love ACANA. More

importantly, we think your cat will too!

IT'S ALL ABOUT THE MEAT-cat-reg-grasslands-meatmath

MOTHER NATURE MATCHED THE NUTRIENTS IN WHOLE GAME, FISH, AND FOWL TO PERFECTLY MEET THE NEEDS OF YOUR CAT. That's why ACANA features fresh meats, organs and cartilage which

deliver nutrients naturally, without long lists of synthetic additives.
Modern cats are built like their ancestors and we believe they should eat like them.How do you know if your cat's food is Biologically Appropriate™? It's simple, just answer the three meat questions.

HOW MUCH? (75% MEAT)

Entirely free of plant protein concentrates, ACANA Grasslands is loaded with 75% meat — up to twice as much as most pet specialty cat foods.

HOW FRESH? (1/2 FRESH)

1/2 of the meat in ACANA is FRESH, supplying essential nutrients in their most nourishing form, and 1/2 are dried to provide a concentrated source of meat protein.

HOW MANY? (5 FRESH MEATS)

ACANA Grasslands feature 5 fresh meats in WholePrey™ ratios that include meat, organs and cartilage to supply nutrients naturally and completely.

Grass-fed lamb – meat, liver, heart, kidney and cartilage, fresh from local ranches.
Free-run duck – fresh meat, organs, cartilage and liver from local prairie farms.
Nest-laid eggs – whole and fresh from local prairie farms.
Northern Pike – whole and fresh from Canada's pristine lakes
Free–run turkey – meat, liver, heart, kidney and cartilage, fresh from local farms.
In nature there are no supplements, and cats and eastern wildcats derive their nutritional needs by consuming prey animals; muscle meat provides protein; liver, kidney and

tripe supply vitamins and minerals; bones and cartilage deliver calcium and phosphorus.

ONLY 3 SUPPLEMENTS | NATURAL NUTRIENTS

ACANA Grasslands rich meat and WholePrey™ inclusions supply nutrients naturally. By providing a concentrated, natural source of virtually every nutrient your cat needs to

thrive, you eliminate the need for long lists of synthetic additives which is why choline, zinc and copper are our only added supplements.