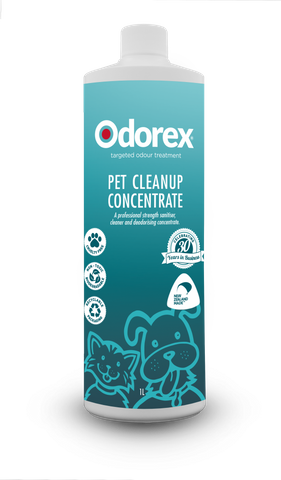 Odorex Pet Cleanup 1lt Concentrate
Description
Odorex® Pet Cleanup Concentrate

Previously called Odorex Kennel Cleaner Concentrate, Pet Cleanup Concentrate is a professional strength sanitiser, cleaner and deodorising concentrate. It combines deodorising, detergent, antibacterial agents and a pleasant fragrance for the elimination of all animal odour problems caused by urine, faeces etc. Ideal for cages, walls, runs, tables, artificial grass, any large area in kennels, catteries, groomers and doggy daycares.

1L concentrate makes 25 litres!
An "all-in-one solution" for kennels and catteries.
Economical and effective.
A powerful combination of professional strength deodorising concentrate, detergent, anti-bacterial agent and a pleasant fragrance.
Acts on contact to neutralise and eliminate even old odours from cages, runs, tables, walls, artificial grass and other large areas.
Leaves a pleasant fragrance.
Can be applied with wash or rinse water.
Non-toxic and biodegradable.