Home

/

EUK Dog Adult Large Breed 15kg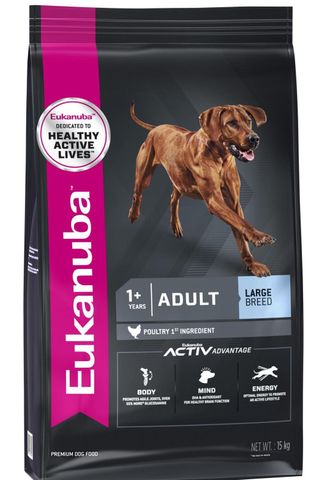 EUK Dog Adult Large Breed 15kg
Description
EUKANUBA™ Large Breed Dog Food

Adult Large Breed provides optimal nutrition for large breed (25-40kg) and giant breed (>40kg) adult dogs. It contains high quality poultry protein as our No1 ingredient, fat, carbohydrates, fibres and important vitamins and minerals for the health and well-being of your large and giant breed adult dogs.

Key Benefits:

Clean teeth, healthy gums
?3D DentaDefense is proven to reduce tartar buildup.
Healthy skin & Radiant coat
?OmegaCoat™ with Omega 6:3 Fatty Acids.
Immune system support
Guaranteed antioxidant levels.
Healthy digestion
?Easy to Digest with natural fibre and pre-biotic blend.
Strong joints and bones
?Vital nutrients like Omega Fatty Acids and calcium.