Home

/

Addiction Cat Duck Royale Grain Free 1.8kg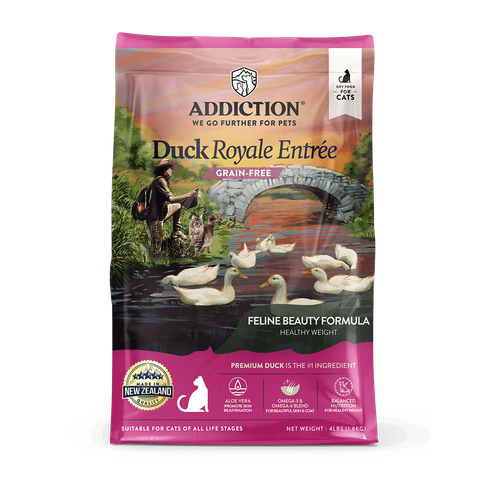 Addiction Cat Duck Royale Grain Free 1.8kg
Description
Addiction Duck Royale Cat Dry Food

Unlike other duck based diets, Addiction's Duck Royale contains only real Duck as the number one ingredient and is especially suitable for the unique needs of sensitive cats who demand the highest quality protein. New Zealand Duck is an ideal premium protein for cat owners seeking alternatives to chicken, beef, or lamb. Our unique formula is packed with beneficial nutrients and scrumptious flavors your cat will love. With a wholesome blend of cage-free duck, with heaps of sun-kissed berries and herbs for improved overall health and vitality, premium fruits and vegetables packed with antioxidants and phytonutrients, and probiotics for improved digestion.

Real meats sourced from trusted New Zealand local farms, free from artificial growth hormones and antibiotics.

Key Benefits:
Antioxidant-rich berries for protection against free radicals.
Prebiotics for improved digestion and nutrient absorption.
Omega-3 fatty acids for healthy skin and coat.
B- vitamins for growth and development.